Theatre Garden
Lotusland's Theatre Garden stands as a reminder of Madame Ganna Walska's passion for theatre and the arts
Theatre Garden
Theatre Garden
This grand theatre is shaded with magnificent oaks that act as seating for a wide range of birds. Reminiscent of the theatre gardens Madame Ganna Walska experienced in her European travels, Lotusland's Theatre Garden came to life in 1948 by designer Ralph Stevens and serves as a reminder of Madame's career as a successful opera singer and performer. Madame also owned the Paris landmark Théâtre des Champs Élysées for five decades, a testament to her strong affinity for France and the arts.
France and Feminism
During Madame Walska's residence in Paris, she was married to Harold McCormick, a wealthy businessman from Chicago. As per their mutual agreement during the nine years of their marriage, she continued to live in Paris with occasional transatlantic visits. A lifetime member of the National Women's Party, she became a vocal feminist in 1929, when she fought for legislation to allow American women to have residences independent from their husbands.
Stone Figures
Madame Walska moved briefly to Paris in 1913 but left for America when the First World War threatened Europe. She remained in New York City for several years, eventually returning to Paris in 1920 where she resided in a townhouse close to her theatre and a 17th-century country château outside of Versailles. During World War II, Madame Walska fled for a second time to her New York home, leaving behind her belongings, including several unusual stone figures. After the war, she had many of her antique furnishings and garden furniture shipped to Lotusland—including three statues. These figures are archetypes of Italian and British characters from satire and tragicomedy. By the time the Theatre Garden was constructed, Madame Walska had purchased many more statues to add to her collection.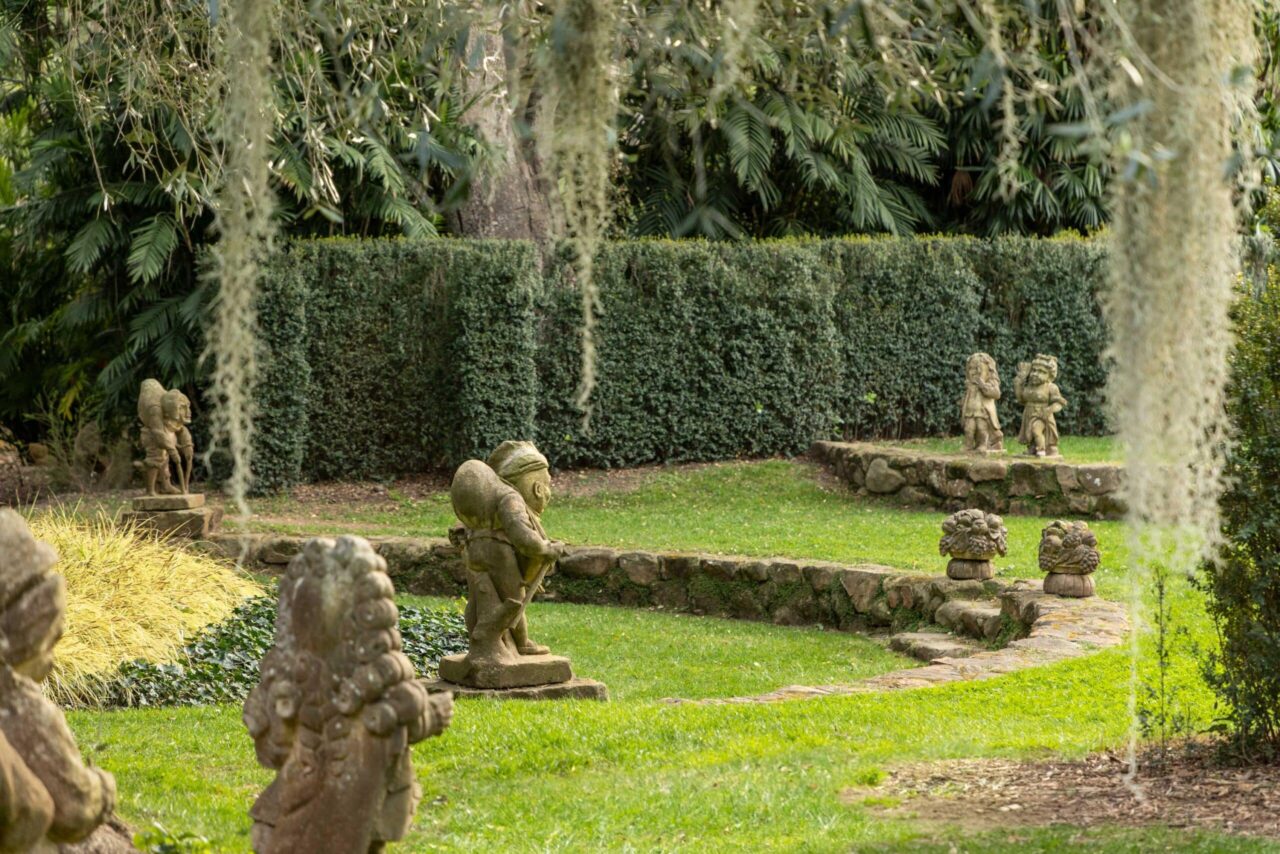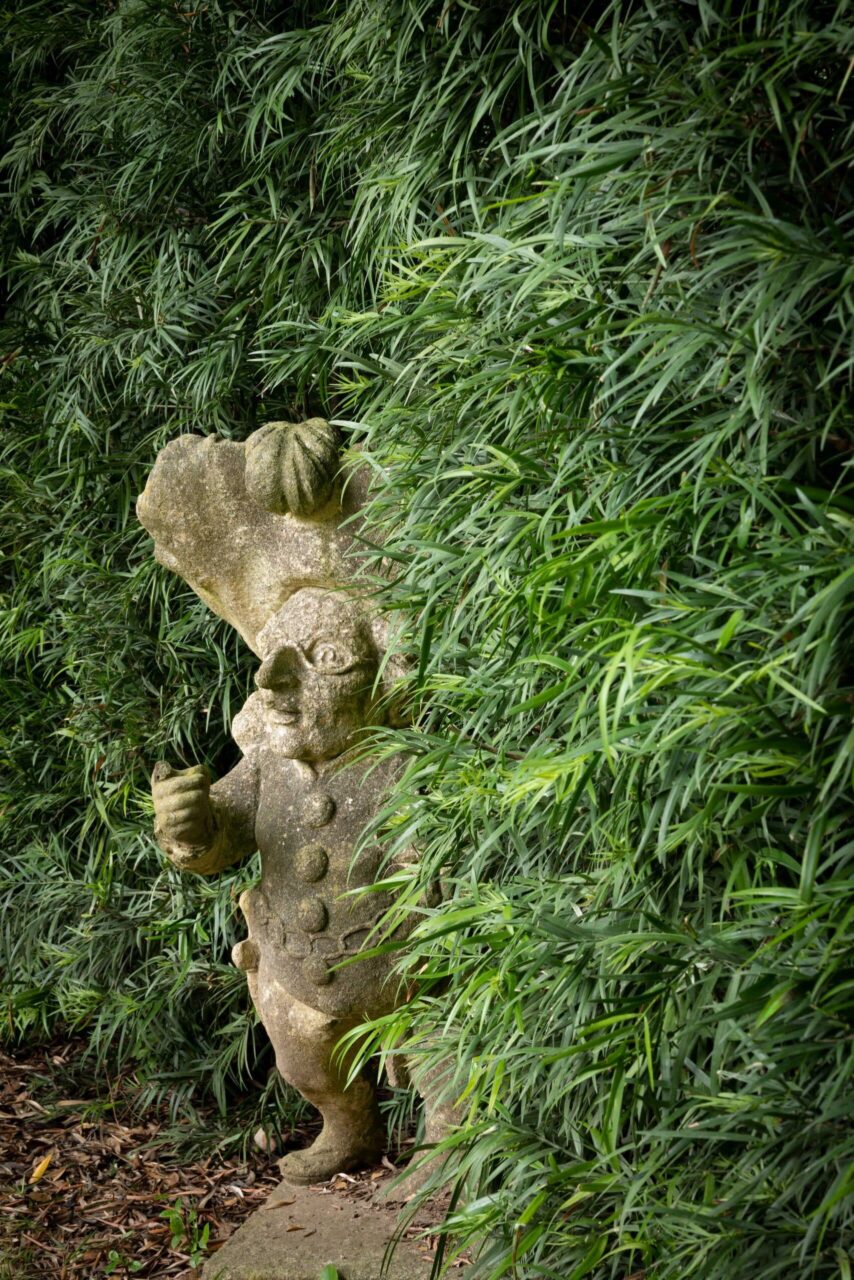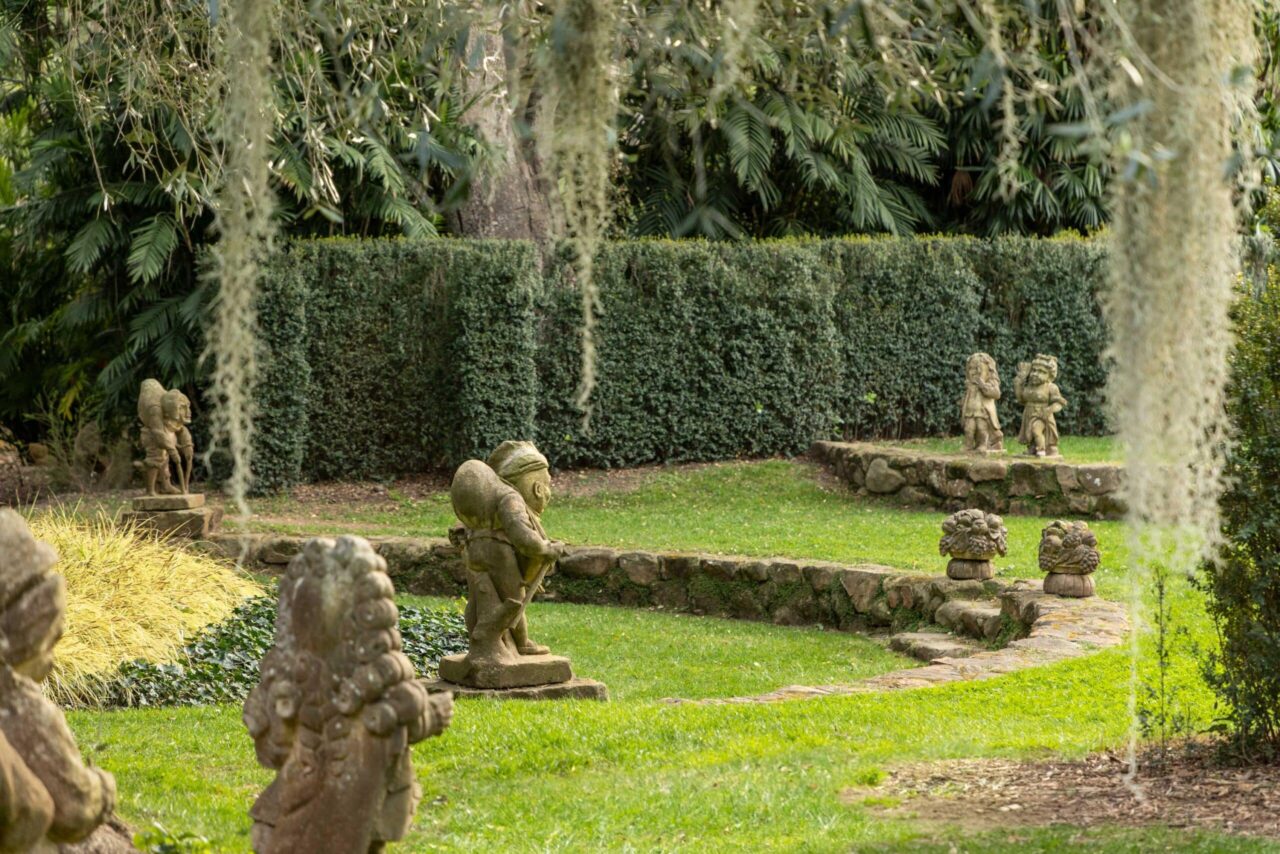 DESIGN INSPIRATION
Breath of Heaven
Breath of heaven (Coleonema album) is a fragrant, evergreen shrub native to South Africa and is enjoyed in landscaping across central and southern California. Attracting bees and butterflies, it flowers in the spring and winter with fragrant blooms from which its common name is derived.
Created in 1948 by designer Ralph Stevens, Lotusland's Theatre Garden is reminiscent of the theatre gardens Madame Walska experienced in her European travels. The stage wings and dressing room are composed of African fern pine (Afrocarpus gracilior), and the natural stage lights are made of variegated Japanese sedge (Carex morrowii 'Aurea-variegata').
The tall hedges bordering the garden were originally Monterey cypress (Hesperocyparis macrocarpa) but were converted to African boxwood (Myrsine africana) during the 1990 renovation of the garden by landscape designer Isabelle Greene.
Host and philanthropist, Madame Walska was a donor to the Music Academy of the West, opening the garden for fundraisers and holding student performances in the Theatre Garden. She also hosted entertainments and events in this garden. The three tiers of sandstone benches seat up to one hundred guests.