Japanese Garden
Balance and Peace
balance
Japanese Garden
The Japanese Garden is one of the great accomplishments of Lotusland. This remarkable Garden was designed with balance and peace in mind. Flawlessly pruned by master gardeners and devoted volunteers, all trained in artistic pruning techniques passed down from legendary Japanese gardeners. By discovering the beauty of the Japanese Garden, you in turn discover yourself. A must-see for all visitors.
Reflection Pond
Lotusland's dazzling Reflection Pond is home to many koi, lotus, water lilies, and Japanese irises. The koi feed on naturally occurring bugs, plant materials, and algae. The remaining algae are beneficial, as they provide nutrients and add oxygen through photosynthesis.
Niwaki
Throughout the Garden are highly sculpted trees in a style known as niwaki. A collection of trees that appear small in height but, in many cases, these cherished trees are over forty years old. Niwaki translates to "garden tree."
Miwatasu (Scenic Overlook)
During your visit, take a moment to rest in the shade of our Miwatasu and enjoy the view from the highest point in the Garden. Near the Miwatasu are three boulder benches collected from the 2018 Montecito debris flow. While Lotusland was spared damage, we tenderly remember the friends and neighbors whose lives were lost during this tragedy. The sandstone boulders remain a space to honor and treasure our loved ones.
Notable Species
Wisteria chinensis (Chinese wisteria), Cryptomeria japonica (Japanese cedar or sugi), Cycas revoluta (sago palm), Nelumbo nucifera (sacred lotus), Ilex vomitoria (yaupon holly), Prunus spp. (flowering cherry) Rhododendron spp., Camellia spp. and cultivars, Osmanthus fragrans (sweet osmanthus), Acer griseum (paperbark maple), Magnolia (Michelia) figo (banana shrub), Phyllostachys nigra (black bamboo), Eucalyptus robusta (swamp mahogany)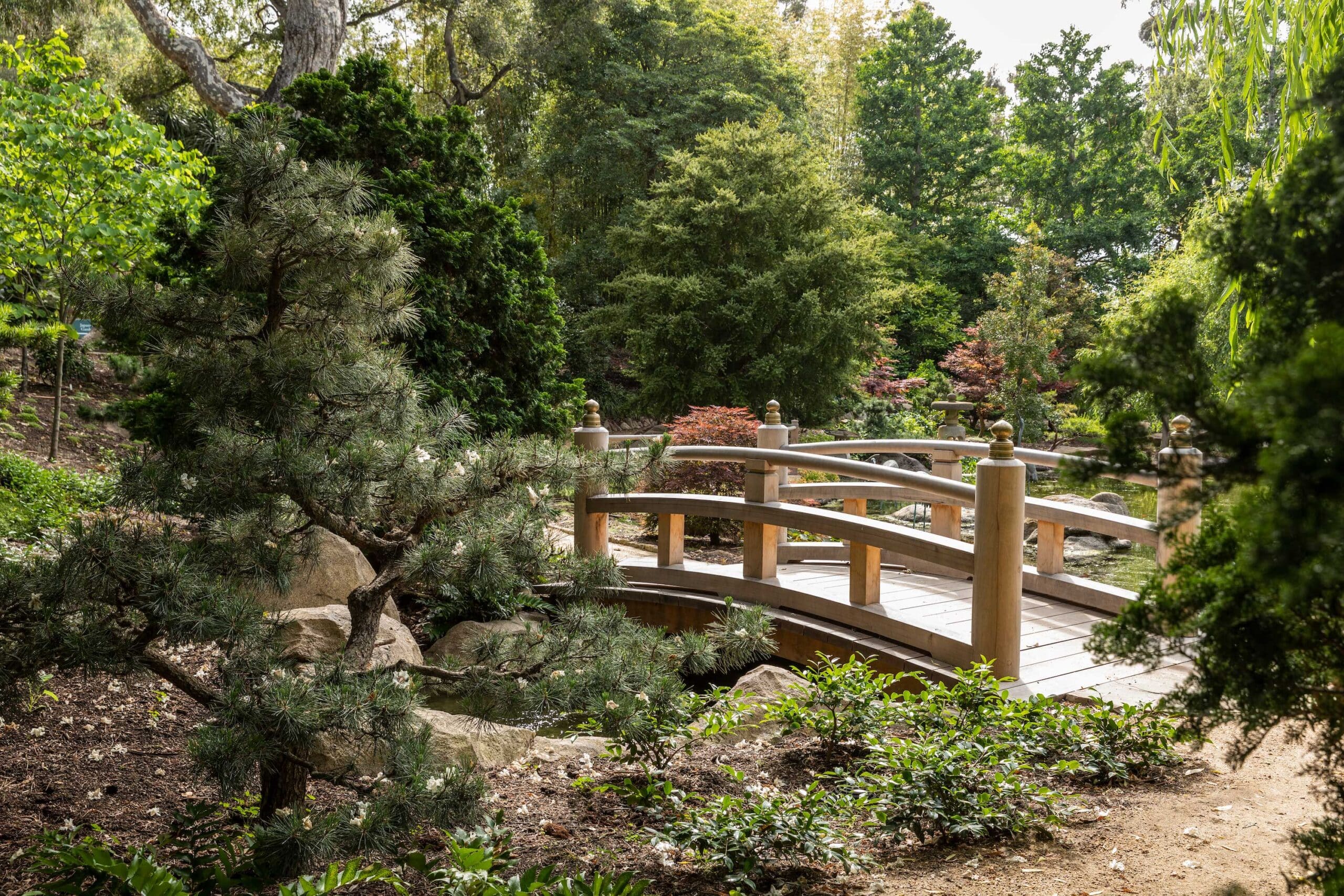 DESIGN INSPIRATION
Lotusland's Japanese Garden follows a style of strolling gardens that feature a central pond with a path.
Scenes specifically intended to be viewed at key points are encountered while strolling the path. Borrowed scenery (shakkei) uses elements outside of the Garden to create an illusion that the Garden is much larger. Hide-and-reveal (miegakure) uses angles and direction to hide scenes for dramatic reveals.
FRANK FUJII
Before the vision of a Japanese Garden existed at Lotusland, Madame Ganna Walska had the great fortune of working with a gifted Japanese gardener named Frank Fujii. However, Frank was far more than a typical gardener. Frank, by all rights, was a genius who was rooted in ancient traditions of pruning and a deep passion for the art of niwaki. Frank's love for gardening started with his father, Kintsuchi Fujii, who assisted in the creation of the Japanese Garden in San Francisco's Golden Gate Park. Frank and Madame Walska set out to create the Japanese Garden during the late 1960s. An undertaking that to this day remains one of the most significant Gardens in Lotusland. Frank Fujii continued to maintain and enhance the Garden until his retirement in 2007.
the
Bonsai Display at Lotusland
.
Bonsai Exhibit in the Japanese Garden
Bonsai (pronounced "bone-sigh"), meaning tree in a tray (or pot).

The bonsai display in the Japanese Garden is a collaboration between Lotusland and the Bonsai Club of Santa Barbara. The stands were created by longtime Lotusland gardener, Mike Furner, using wood from the 104-year-old Monterey cypress that adorned the Main Lawn, until it had to be removed for safety reasons. All trees in the display belong to Club members and are maintained and rotated by the Club on a regular basis.
The art of capturing the essence and beauty of trees can be found in bonsai as well as in its counterpart, niwaki (garden tree), which are found throughout the Japanese Garden.
Since its founding in 1971, the Bonsai Club of Santa Barbara has been dedicated to the education of its members and the general public in the art and culture of bonsai.
The installation was made possible by a generous anonymous donor and with the vision and care of Terri Clay and the Bonsai Club of Santa Barbara.